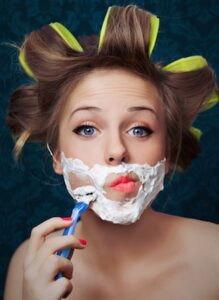 Hair growth is moderated by hormones. Hormonal imbalances can cause anything from excessive hair growth to baldness and everything in between. The most well-known life stage for both females and males to become aware of significant changes in hair growth happens at the time of puberty. For women, throughout life, there are many events that will affect hair growth and loss, for example, pregnancy, stress and certain medical conditions.
In this article, we talk about facial hair specifically, and the key causes of excess facial hair in women. We also discuss the leading and long-term solution for facial hair removal.
TOP CAUSES FOR EXCESS FACIAL HAIR IN WOMEN
PCOS
Polycystic Ovarian Syndrome (PCOS) is a complex hormonal condition and causes health concerns for woman such as irregular menstrual cycles, excessive facial and body hair growth, acne, obesity, reduced fertility and increased risk of diabetes.
Hirsutism
Hirsutism is a condition where women suffer from unwanted, male-pattern hair growth. It results in excess growth of dark, course hair on body areas where men typically grow hair – face, chest and back. It is a medical condition usually driven by excess male hormones (androgens), primarily testosterone. It can also be due to a family trait (genetics).
Adrenal Gland Disorders
Hormonal imbalances resulting in excess facial hair growth can be caused by adrenal gland disorders such as Cushing's disease, adrenal tumors or cancer.
Medications
Treatments for Endometriosis including Danazol and Gestrinone medication can cause excessive growth of facial and body hair. Excessive hair growth can also be a result of taking certain medications such as anabolic steroids, Minoxidil, testosterone and cyclosporine.
GENTLE LASER HAIR REMOVAL FOR FACIAL HAIR
The gold-standard solution for long term removal of facial hair is laser hair removal. At Medical Aesthetic Laser Clinic, we understand the causes and the impact of unwanted facial hair growth and we have the leading technology – the Gentle series from Syneron Candela – which offers comfortable and fast hair removal treatments.
To see our treatment pricing, simply click on the button below:
NEXT STEPS
At Medical Aesthetic Laser Clinic, we are Melbourne's most trusted laser hair removal clinic with over 33 years' experience. We understand the true impact of excess hair growth and can help you become hair-free long term. We offer a free consultation where we will assess your skin and hair type, discuss any medical conditions and recommend a treatment plan with you and answer any questions that you have. Simply click on one of the buttons below to ask a question or book your complimentary consultation online now. Alternatively, you can call our friendly team on (03) 9916 9631.
Start By Booking a Skin Analysis Ask A Question
For more information on laser hair removal see these pages: