Is your skin looking the best it could? Do you have regular treatments that compliment your at home regime? Can you see a noticeable improvement in your skin tone, texture and laxity following a facial treatment?
If you answered no to any of these questions, or are not getting the desired results from your treatments, then perhaps Skin Needling could be the anti-ageing answer you are looking for.
We understand you may feel a little overwhelmed by the myriad of options for anti-ageing- but rest assured, you're not alone! From serums to moisturisers to injectables and cosmetic procedures, it's often difficult to decipher what would benefit your particular skin concerns. While we recommend booking a complimentary consultation with one of our experienced skin therapists to find the solution for you, Skin Needling has proven results in treating a range of conditions, from fine lines and wrinkles, to pigmentation and enlarged pores. Here's what you need to know: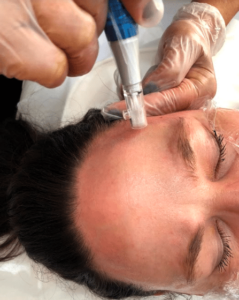 What Is Skin Needling?
The goal of Skin Needling is to improve the appearance of the skin by triggering your body's own natural wound-healing response. CIT is recognised by doctors, dermatologists and corneotherapists worldwide as a method of rejuvenating the skin by stimulating the production of collagen.
It is a comfortable cosmetic procedure that uses the Derma CIT Pen. This Pen consists of extremely fine, medical-grade, stainless steel needles that are both intricately constructed and extremely precise. Not only does the treatment stimulate the process of healing and promote the regeneration of the skin cells, it also allows topical nutrients to absorb into the skin more readily, encouraging production of collagen and elastin.
Benefits of Skin Needling
Suitable for all skin types (with the right preparation), advantages of Derma CIT Pen treatments include:
Reduction in fine lines and wrinkles
Improvement in the appearance of scars and stretch marks
Noticeable reduction in pore size
Assist with the fading of pigmentation
Improvement in skin texture
Production of new growth factors
Increased formation of natural collagen
No pain
No downtime
No added risk of burning or scarring
Here is a short clip of Fadia performing skin needling on one of her clients. Notice they aren't even flinching?
https://www.instagram.com/p/BkLyQFLA9K1/?utm_source=ig_embed&utm_campaign=embed_video_watch_again
While there will be some redness in the skin, downtime is minimal and this should subside with in a day or two. In the meantime, it is recommended to treat your skin carefully and always apply SPF.
(L: Before treatment R: immediately after)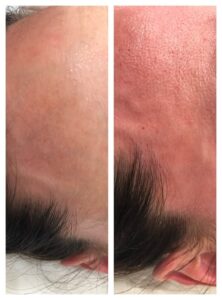 At Medical Aesthetic Laser Clinic, we have over 33 years experience. Our highly skilled skin professionals can develop a skin treatment plan and skin care regime best suited to your particular requirements. Come in for a complimentary consultation to discuss your skin concerns!
Simply fill out the form on this page or click here: Book Appointment