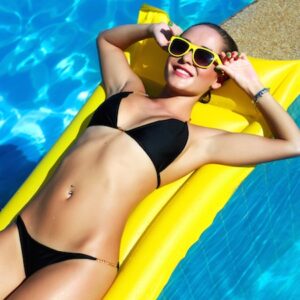 Laser hair removal is big business in Australia and chances are you know at least one person who has had it. If you are considering ditching the shaver or wax for a much longer lasting solution, then laser hair removal is the obvious choice. If you're wondering what to expect, or if you've got some questions about laser hair removal in Melbourne, you've come to the right place.
It's normal to wonder what to expect before having a cosmetic or aesthetic treatment. In this article, we cover everything you need to know, including some history of laser hair removal, the top frequently asked questions plus we give you some background on the technology of choice.
Laser Hair Removal Top Facts
Not All Lasers Are The Same
Beware – not all lasers are the same – laser technology has evolved significantly in the past decade and many clinics are using out-dated technology. Look for clinics who use Gentle technology for fast, comfortable and effective hair removal.
IPL Is Not A True Laser
IPL (Intense Pulsed Light) is not a true laser. IPL uses multiple wavelengths, whereas true laser only uses one wavelength to precisely target the hair follicle. The stray wavelengths from IPL cause excessive heat, pain and inefficient treatment.
Gentle Technology Explained
At Medical Aesthetic Laser Clinic, we have invested in the leading hair removal device – the GentleLase Pro from Syneron Candela. Gentle Hair Removal is a comfortable laser treatment that targets the hair follicles at the root for permanent hair reduction.
How Long Has Laser Hair Removal Been Around?
Laser Hair Removal became commercially available in the mid-1990's after being performed experimentally for around 20 years. It is now one of the most popular cosmetic treatments available.
Frequently Asked Questions
How Does It Work?
It works by removing unwanted hair through pulses of laser energy that destroys the hair follicle. As hair cycles through different growth stages and all hair is never in the same stage at the same time, multiple sessions are needed to treat the hair when it is in the growth stage.
Is It Permanent?
Due to our body's profound ability to regenerate and repair, it cannot be referred to as "permanent hair removal". Clinical studies performed on the Gentle technology revealed 80% permanent hair reduction in just 3 treatments.
Does It Hurt?
Gentle laser hair removal is a very comfortable treatment when compared to alternative laser treatments. The Dynamic Cooling Device keeps skin cool and the treatment comfortable throughout the procedure.
Are There Any Side Effects?
Laser treatments have been safely performed for many years for a variety of cosmetic and medical procedures.
How Long Does It Take?Treatment can take anywhere from 5 minutes for a small area, for example the underarms, to half an hour or more for multiple areas, for example arms, back and chest. The treatment moves fast and a special cooling device optimises comfort.
How Much Does It Cost?Our prices start as low as $46, but keep an eye out for our Specials! To view our price list, simply click on the button below.
View Price List See Current Specials
What Should I Expect Before and After?It's important to avoid sun exposure or any form of tanning for at least two weeks before treatment. Do not bleach, pluck or wax 4 to 6 weeks before and after treatment.
Your skin may be slightly red immediately following the procedure and typically resolves within a few minutes to several hours after the procedure.
Testimonials – What Our Customers Say…
"I have been amazed with the outcomes from laser treatment as my hair has reduced a lot. The staff are always really friendly and offer you advice on how to get the most out of this treatment. I often recommend Medical Aesthetic Laser Clinic to me friends as I have been very happy here."
"Hi There, Yesterday i attended my first laser session with Tash. She was professional, friendly, thorough and attentive. I have recommended Medical Aesthetic Laser Clinic to a few of my friends and family who have been interested in receiving laser. Along with the friendly and knowledgeable staff, the prices are fantastic and very reasonable considering the amazing results! I look forward to soft, smooth and in-grown hair free skin soon!"
"My facial hair was getting out of hand and affecting my confidence and self esteem. Plucking every day was driving me crazy. Can't believe the change only after the second appointment! It's changed my life. Thank you so much xx"
"I have had 3 sessions so far (laser hair reduction) and the staff could not be lovelier! Obviously it is not the most carefree thing to encounter but they are extremely professional and always make me feel comfortable and provide advice on after care. I have been to both the East Bentleigh and South Melbourne clinics and can attest the same for each. Well done!"
"I found Stephanie to be excellent in her application of the laser treatment I had. She was professional and polite. She explained the process and answered my questions thoroughly. I can't think of anything to improve my experience. I was very satisfied."
Next Steps
If you are looking for a long-term, hassle free solution for hair-free, beautiful smooth skin, come in to see the laser hair removal experts at Medical Aesthetic Laser Clinic, South Melbourne. We offer a free consultation where we will assess your skin and hair type and discuss a treatment plan with you and answer any questions that you have. Simply click on one of the buttons below to ask a question or book your complimentary consultation online now.
Alternatively, you can call our friendly team on (03) 9916 9631.
For more information on laser hair removal see these pages: