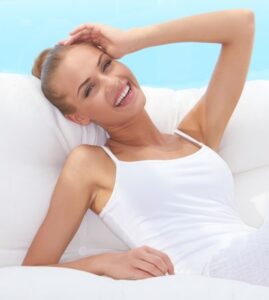 Laser hair removal will change your life. Imagine never having to worry about shaving or waxing ever again! Imagine never getting caught out with an un-groomed bikini area or underarms. Imagine being able to get rid of unwanted facial hair for good. Whatever your reason for laser hair removal, once you start, your only regret will be not starting sooner.
Forget painful IPL. We are talking about true laser hair removal, using the most innovative technology available. A medical grade laser that precisely targets the hair follicle, stunting its growth and leaving you with beautiful, gorgeous, hair-free skin. There are many benefits of having hair-free skin, and below we have listed 10 of the most popular benefits from laser hair removal.
TOP 10 BENEFITS OF LASER HAIR REMOVAL MELBOURNE
Never get caught-out with hairy skin, be bikini-ready 24/7.
Precision – medical grade lasers are very precise – they treat the hair follicle whilst leaving the surrounding skin and tissue unharmed.
Speed – each laser pulse is ultra-fast making treatment time as short as possible, for example, underarms only take a few minutes.
Virtually painless – so many of our first-time patients are pleasantly surprised about how painless treatment is.
Better skin condition, no more shaving rash.
No more in-grown hairs.
In between treatments, hair grows much slower and finer.
Save time, no more pain and hassle.
The ideal option for excess facial hair growth, caused by hormonal changes or certain medical conditions.
At Medical Aesthetic Laser Clinic, we pioneered laser hair removal in Melbourne, making us the most experienced and trusted for laser hair removal.
TOP 3 THINGS OUR CUSTOMERS SAY ABOUT LASER HAIR REMOVAL
At Medical Aesthetic Laser Clinic, we have over 33 years' experience and we were one of the first clinics to bring laser hair removal to Melbourne. There are three things that we frequently hear:
"I wish I had tried it sooner!" That's what we hear so often from our first-timers.

"I can't believe it didn't hurt at all!" Even though we say it is much more comfortable than waxing, people are still surprised when their treatment really doesn't hurt.

"That was quick!" With our medical grade laser and highly trained staff, our treatments are fast and convenient.
To see our treatment pricing or current specials, simply click on the buttons below.
View Price List See Current Specials
NEXT STEPS
At Medical Aesthetic Laser Clinic, we are Melbourne's most trusted laser hair removal clinic with over 33 years' experience. We offer a free consultation where we will assess your skin and hair type, and answer any questions that you have. Simply click on one of the buttons below to ask a question or book your complimentary consultation online now. Alternatively, you can call our friendly team on (03) 9916 9631.
Start By Booking a Skin Analysis Ask A Question
For more information on laser hair removal see these pages: