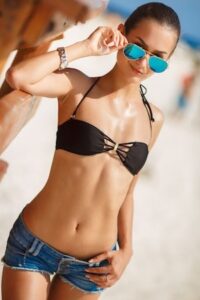 As sure as the sun is going to rise tomorrow, so too will new hair growth…..or won't it? Thanks to the latest advances in laser technology, permanent hair reduction in Melbourne is a reality. But, you need to choose the right clinic to get the best results. Inexperienced clinics who use the incorrect machine or settings for your shade of skin run the risk of inflicting burns, scarring and permanent skin damage.
We give you our top tips on how to ditch the daily grind of shaving or the pain and hassle of waxing or epilating and get beautiful smooth skin, fast. For people who suffer from polycystic ovarian syndrome (PCOS), endometriosis and hormonal hair growth on the face, we explain why laser hair removal can be life-changing.
TOP TIPS FOR SILKY-SMOOTH SKIN
Laser hair removal is considered the gold standard for hair removal. IPL is painful and inefficient. Shaving, waxing and epilating are time-consuming and painful, not to mention the in-grown hairs! Laser treatment for removing hair can take as little as 5 minutes.
Use an experienced clinic with knowledgeable clinicians who specialise in laser hair removal.
Laser hair removal is the leading treatment for facial hair (for both men and women) as it permanently reduces hair growth. Maintenance treatments can keep you hair-free.
Winter is the best time for laser treatment as it's easier to avoid sun exposure. You need to be careful not to have a tan or sunburn before or after having laser treatment.
Look out for specials. On average, most people will need 6-8 treatments to get the full results, so purchasing a package can save you hundreds.
Ensure you have shaved the treatment area before you go in for your session. Don't pluck or wax as the laser won't have any hair follicle pigment to target.
WHY CHOOSE MEDICAL AESTHETIC LASER CLINIC?
Medical Aesthetic Laser Clinics are Melbourne's most trusted and respected. We have 33 years' experience treating both men and women with a team of highly skilled clinicians. We understand that the impact of facial hair growth due to hormones, PCOS or endometriosis can be debilitating for many women due to both the physical and psychological stress that it causes. Our laser treatments will leave you feeling more confident and happier that you can wake up tomorrow without facial hair re-growth.
We have Melbourne's leading technology and offer a complimentary consultation so we can assess your skin and your hair type and answer any questions that you have. We have performed thousands of laser hair removal treatments, from our convenient locations at South Melbourne and Bundoora. To view our prices simply click on the button below.
You can look forward to:
No more in-grown hairs
No more shaving rash
No more getting caught-out with hairy legs etc
No more hassle, just quick, comfortable treatments and fast results!
NEXT STEPS
Take advantage of our free consultation and start your journey to comfortable, fast, permanent hair reduction. Simply click on one of the buttons below to ask a question or book your complimentary consultation online now. Alternatively, you can call our friendly team on (03) 9916 9631.