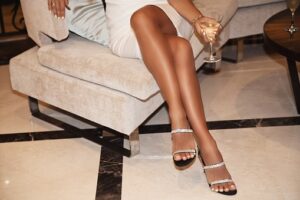 With the recent rise in popularity of laser hair removal, it's quite surprising that there are still a number of myths about the procedure. Many of these statements arise from misinformation and speculation caused by people not understanding the process fully.
Below are five of the myths we hear or read about most regularly and the truth behind them…
LASER HAIR REMOVAL HURTS
The root of this myth comes from a time when laser hair removal was quite painful. When the procedure first appeared on the market technicians would use a device such as a flash-lamp. This old technology could cause skin damage and often leave skin blistered and sore to the touch (as well as removing the unwanted hair).
Today's modern lasers are so precise they can penetrate the hair follicle whilst leaving the surrounding area completely undamaged. If you have an extremely low pain tolerance there are cooling creams and other devices that can ease any slight discomfort caused during the procedure.
LASER HAIR REMOVAL ISN'T SUITABLE FOR BLONDE OR RED HAIR
There is some truth behind this myth until recently laser hair removal in Melbourne was not suitable for light or ginger hair. Laser treatments target melanin (which these hair types do not possess) so technically the laser will not work with lighter hair types. This is not to say that people with these hair colours cannot benefit from the treatment.
Laser hair removal technology is constantly changing and being developed to overcome such issues. By using an oil which adds the melanin to the hair it is in fact, possible for these lighter shades of hair to be treated even on males.
View Price List See Current Specials
LASER HAIR REMOVAL DOES NOT WORK ON DARK SKIN
This is a very similar to the previous myth and this too used to be a factual statement. Darker skin tones contain melanin therefore, making it difficult for the laser to differentiate the melanin in the skin from that in the hair.
This again is no longer the case, there are lasers that can successfully remove hair from darker skin tones. Although treatment of dark skin and hair make sometimes be a longer process it can be achieved by experienced doctors and technicians.
LASER HAIR REMOVAL PERMANENTLY REMOVES HAIR
This is a common misconception which people often consider to be an advantage of Laser hair removal. Laser Hair removal is not a miracle cure to unwanted body hair. The treatments help to permanently reduce the amount of body hair that grows (sometimes by up to 90%) with any regrowth that may continue after this time being finer and more manageable.
LASER HAIR REMOVAL IS EXPENSIVE
The procedures often seem expensive when looking at the overall cost of the 5 – 6 sessions that you may require. But when you compare this cost to the amount that would be spent on waxing in the same time frame and the effectiveness of both treatments laser hair removal is often the most affordable option. Not to mention the amount you will eventually save on hair removal products in the long term.
Start By Booking a Consultation
For more information on laser hair removal see these pages: