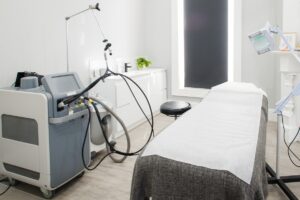 You already know you want to remove your hair. We don't need to convince you of that. But the biggest decision you have to make is HOW and WHEN?
The answer? Laser hair removal, now!
Here are our top 4 reasons why winter is the best time to start your laser hair removal treatment plan.
LESS SUN EXPOSURE
While most of us are sad to see the end of daylight savings and balmy nights, this is the perfect time to begin your laser treatments. Why? Because limited sun exposure makes it safer and more effective. The treatment involves sending laser pulses into the hair follicle, and while this is perfectly safe, it does increase your sensitivity to the sun. This means that over summer you have to be very careful to cover up, which can be a hassle! The oncoming cooler weather means that most of us are rugging up and the skin is less exposed, reducing any risks. It also allows us to use a higher energy level during your treatments, leading to better results. It really is a win-win!
FADING TAN LINES
Laser works by targeting the pigment in the hair, so fair skin and dark hair are able to get the best results. While a sunkissed glow from your beach days may look great, it can mean we are unable to treat areas that have become particularly dark or where the hair has lightened. Not only is it likely to be ineffective, it can also be unsafe and cause burns in the treated area- something no one wants. Waiting until your tan is fading will mean it is easier to achieve the desired results for everyone.
Check out our FAQs below to read more about who laser is suitable for.
BE PREPARED FOR NEXT SUMMER!
Although our treatment plans are customised based on individual needs, on average 6-8 sessions are needed, spaced 4-6 weeks apart, depending on the rate of your hair growth. This means it will take a minimum of 6 months before you will achieve the smooth skin you've been dreaming of. Starting your treatment in early Autumn means you will have undergone the majority of your sessions and will be beach-ready by the time next summer comes around! While it does require a bit of a commitment, we can promise you the results will be worth it- one winter of regular laser hair removal sessions will have you hair-free for life!
View Price list
LESS WORRY
It is likely you will begin to see a significant reduction in your hair growth in your first few sessions, which is also a bonus for the cooler months! We all know what it's like.. Winter comes around and we're comfy in our long pants and jumpers when suddenly a last minute event is sprung upon us. There's nothing worse than remembering you haven't pulled the razor out in a week (or, 3!) and your legs are wrapped in a thick blanket of hair! Fortunately, if you opt to begin your laser treatment plan now, shaving won't be a concern. While you won't be entirely hair-free for a few months, you won't be embarrassed about getting your legs out for those last minute occasions!
To begin your laser journey, book your complimentary consultation today. One of our experienced laser hair removal therapists will assess your suitability and create a personalised treatment plan for your needs!
Simply click the link below.
Start By Booking a Consultation
For more information on laser hair removal see these pages: